A
little confession really quick on this early early Thursday morning. (So, early in fact that I'm gonna call it wednesday.)
Ahem...
I
REALLY REALLY
wanted a
nose ring
for a while when Drew and I were in the band. LOL Thank you to my sweet sweet MIL for talking me out of it!
(Ah, these pictures bring a smile to my face! See my handsome hubby drumming his heart out? Hot. That was the best part of being in the band.)
Join the fun! Only a couple days left to spill your guts!!!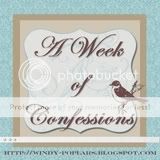 Hoping you still love me after this weeks over!
M